Het bestellen van maaltijdboxen zijn steeds meer in trek bij mensen. Het is gewoon lekker eten en zonder gedoe. Het wordt thuis bezorgd en alles is geregeld. Je moet er wel een dinnerly account voor aanmaken. We zullen je vertellen hoe dat in zijn werking gaat.
Wat is dinnerly?
Dinnerly is een leverancier van maaltijdboxen. Een maaltijdbox bestaat uit gerechten die je elke week zelf uitkiest. Voor deze gerechten worden alle ingrediënten afgewogen en wel bij je thuis geleverd. Je hoeft dus niet meer elke week te beslissen waar je trek in hebt en zelf de boodschappen te doen.
Dit is zeker ideaal als je thuis komt na een lange dag werken. Je hoeft niet meer naar de supermarkt om te bedenken wat je gaat eten, want alle ingrediënten zijn al in huis. Zo is het een stuk makkelijker om gezond te eten.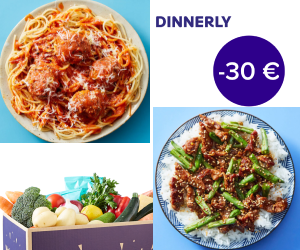 Eerste keer bestellen
Als je wilt bestellen bij dinnerly, maak je een Dinnerly account aan. Dit gaat zeer gemakkelijk. Je selecteert als eerste wat voor box je wilt bestellen. Dit wordt gebaseerd op 2 of 4 personen en het aantal maaltijden dat je per week wilt ontvangen. Ook kun je hier selecteren of je vegetarische opties wilt voor gerechten of niet.
Daarna voer je je gegevens in waar het geleverd moet worden, wanneer je de levering wilt ontvangen en hoe je de betaling gaat voldoen. Als je dinnerly account voltooid is komt het leukste, de recepten uitkiezen!
De recepten kiezen
Elke week heb je weer nieuwe recepten waar je uit kunt kiezen. Je logt wekelijks in met je dinnerly account en kunt zien welke recepten je deze week kunt bestellen. Je krijgt een overzicht met foto's van de gerechten en eventuele labels of het bijvoorbeeld glutenvrij of vegetarisch is.
Als je op de gerechten klikt krijg je meteen te zien wat er in het gerecht zit, hoelang de bereidingstijd is en of het makkelijk of moeilijk te maken is. Ook staat er een duidelijk overzicht wat er geleverd wordt en wat jezelf dient toe te voegen. Dit gaat vaak om producten zoals kruiden of bakolie, oftewel de producten die je vaak al standaard in huis hebt.