Maaltijdboxen zijn superhandig. De inspiratie word je voorgeschoteld en het wordt nog wekelijks thuis afgeleverd ook. Je hoeft alleen maar een keuze te maken tussen de recepten en het zelf te maken. De rest wordt uit handen genomen! Maar hoelang doe je eigenlijk met een box?
Verschillende boxen
Er zijn verschillende bedrijven die het aanbieden. Zo zijn er duurdere varianten waar je zo'n € 5.25 euro per maaltijd betaald, maar bij dinnerly betaal je bijvoorbeeld zo'n € 4 euro. Dit is gebaseerd op een box van 4 maaltijden per week voor 4 personen. 
De prijs van dinnerly ligt dus een stukje lager, maar dat betekent geen mindere kwaliteit. Ze gebruiken hoogwaardige ingrediënten, maar hebben gekozen voor een simpele aanpak. Je krijgt de receptenkaarten digitaal en de gerechten zijn samengesteld met minder ingrediënten.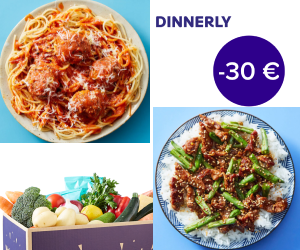 Personaliseren van de box
Je kunt de box afstemmen op 2 personen of 3-4 personen. Daarna kies je voor hoeveel maaltijden je wilt ontvangen. Hoe meer maaltijden je bestelt bij dinnerly, hoe goedkoper de box in verhouding wordt.
Je kiest elke week je recepten zelf uit. Er wordt wekelijks een overzicht aangeboden op de website, waar je uit kunt kiezen. Bij elk recept staan verschillende tags met informatie en een foto van het gerecht. Zo kun je kiezen uit de opties vegan, vegetarisch, zuivelarm, kindvriendelijk of dat het bijvoorbeeld klaar is in 30 minuten. Ben je een week met vakantie of een week minder gerechten nodig, dan kun je de box even op pauze zetten.
De gerechten
Dinnerly heeft de gerechten smakelijk vastgelegd op de foto en het nodigt je echt uit om het uit te proberen. Als je op het gerecht klikt krijg je er meer informatie over. Hier lees je hoe lang de bereidingstijd is, welke allergenen het bevat en de voedingswaarde per portie.
Ook krijg je er een overzicht van wat er in de box zit voor dit gerecht en wat je zelf in huis moet hebben ervoor. Dit is bijvoorbeeld boter of kruiden. Naast de ingrediënten vind je hier ook de bereidingswijze van het recept. De ingrediënten worden precies afgeleverd hoeveel je nodig hebt voor je recept. Je houdt hierdoor dus niets over en verspilt geen voedsel.